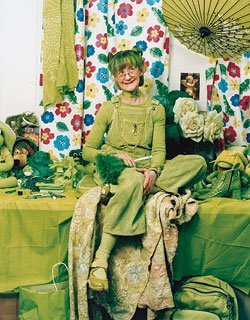 [
Photo and Article from NY Mag
]
Writer, Joanna Goddard, interviewed our favorite lady in green, fabric designer Elizabeth Sweetheart for New York Magazine. Check out some excerpts from the the article below and the full article HERE.
Why green?
I'm from Nova Scotia, where green is in your surroundings. I missed nature when I moved to New York. I started wearing green nail polish, and it spread all over me.
Tell me about your style.
I always wear overalls. I have 30 pairs. I buy children's sizes from GapKids and Chadwick's. And I dye everything—my Nike sneakers, my underwear. I can't fall asleep unless I'm wearing green.
Do you wear green to work?
Every day. I've been in the design business over 44 years.
How do strangers react?