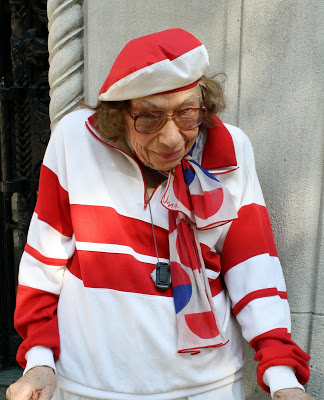 I saw 94 year old Sarah Zenis on the upper west side and admired her coordinated outfit. We talked for a while and it turns out that she is a well known poet. She invited me to one of her workshops and I can't wait.
Here is an excerpt from an article written about her in The Villager:
Poems, alive and thriving, flew around the fourth-floor room at Greenwich House on Tuesday afternoon as they do the second and fourth Tuesdays of every month when "Poetry for You and Me," the Greenwich House Senior Center poetry workshop, meets.
"I don't remember missing once in the past 15 years," said Sarah Zenis, the leader of the Greenwich House workshop. Zenis, a published poet and Lambs Club member, also leads another group that reads poetry at senior centers all around town.
One of her poems recalls the house where she grew up in Lynn, Mass.
I knew I was there.
Footprints scraped on worn pavements,
Dented into deep ridge,
Painful wisps of grass.
Zenis said she began writing poems in grammar school. She graduated from high school during the Depression and began working as a bookkeeper.