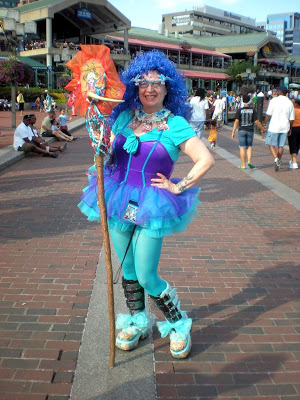 [Photo by
Nessa Chan
]
I love when people send me submissions for Advanced Style and I just received this great shot, from an anime convention, of the "Otakon Granny". I try and display a diverse range of styles from the most elegant to the more avant garde and individualistic. Its great to see an older woman not afraid to have fun and express herself.
The photographer, Nessa Chan describes her feelings on the photo above:
Hi there,
I love reading your Advanced Style blog. I thought you might enjoy seeing this picture I took in Baltimore last month.She's the "Otakon Granny." She was in town for Otakon, one of the largest Japanese animation (anime) conventions in the USA, and the largest one in the eastern USA. I loved her style and lack of concern for what 'others' might think. She was walking hand and hand with a stylishly (but 'normally') dressed gentleman, who didn't want to be in the picture.
As a person who enjoys designing creative costumes myself, I hope that I can be as creative as her when I get older. Her confidence and happiness were infectious!
I thought you would enjoy it.
Carry on!