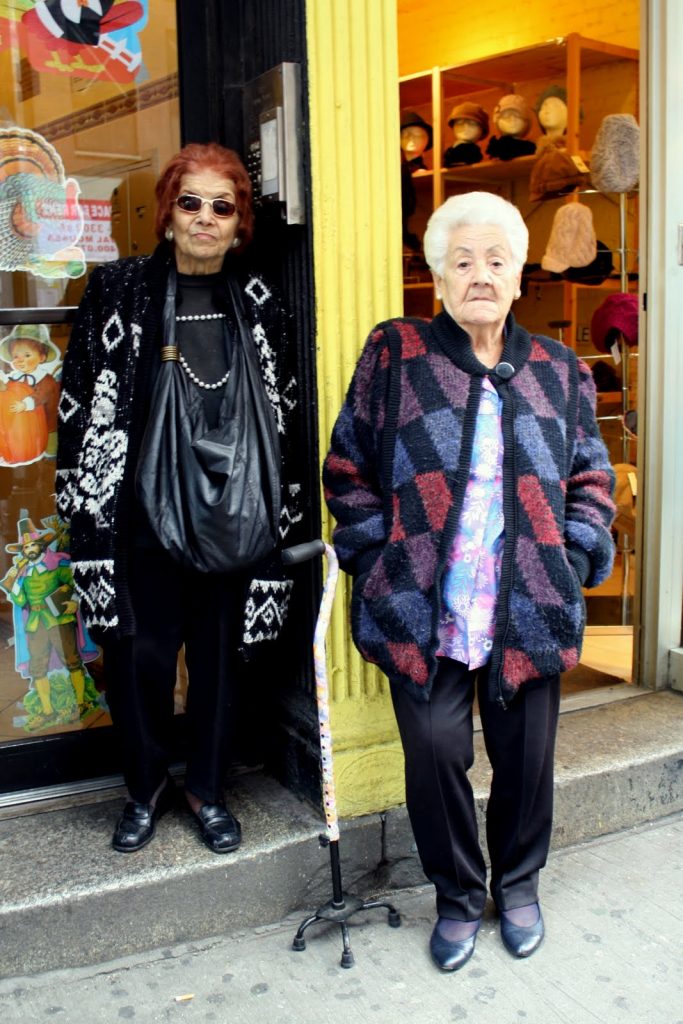 It seems that every neighborhood has that one lady(or group of) who keeps a watchful eye over the block. She can be spotted chatting around the front door of an apartment building, all the while not missing a thing that is happening in the surrounding area. She is the go to person for any neighborhood gossip and once you earn her trust she will always provide you with a warm smile and hello.
Every time I pass these two ladies in their awesome sweaters, I get a sense that they are looking after their community. Like stylish watchmen,their uniforms various combinations of colorful sweaters and dark slacks they exchange laughs while peering around to view the local happenings . I must also admit that I totally dig over sized vintage patterned sweaters. I love to search through the ladies department at thrift stores looking for sweaters. They always have the best designs and colors.
My particular neighborhood watch keeper always wears her hair wrapped up in a simple and elegant scarf, with a long pleated skirt and short sleeved shirt. She is stylish because her style is unique and personal and you can tell that she has been consistently wearing various takes on this "uniform" for many years. This outfit has come to express her strength and character, her consistency and reliability. I have asked her a few times for a photo, but she just laughs and waves me away. She is outside every morning with a days greeting and I always feel a little more comfortable knowing she's around when I come home late at night.
Do you guys have ladies like this in your own neighborhoods? I'd love to hear your responses and if you have photos even better!