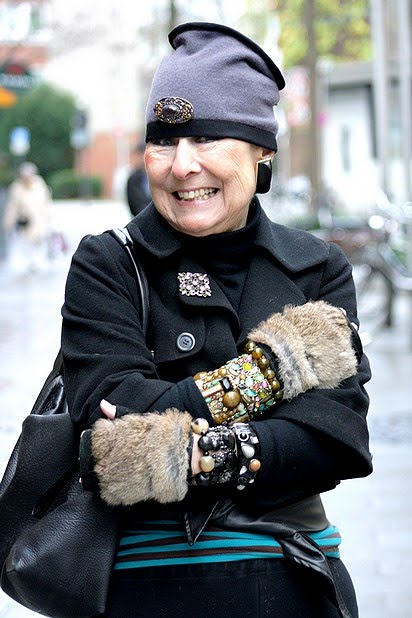 [Photos by
Smilla
]
Smilla sent me this amazing shot from her hometown of Cologne Germany. She writes" Hi Ari,This is Smilla writing, from cologne…remember me? You posted some pictures of my advanced people.The other day you made a post about your neighbourhood watch keeper, and asked for pictures and stories from others.Well, today I met a lady, and she seems to be exactly that; not for particular the block where I live. But where she lives, and that is where I met her, definitely.The was so wonderful and charming and smart and interested, full of humour and fine senses for things, that I immediately fell in love with her.
She describes this delightful lady on her own blog:
This highly aware and cheerful lady seems to know anybody around. Merrily she calls out to somebody " She's taking pictures of me… 'cause I'm so interesting…" and is mightily amused. Interesting is exactly the right word; She paints, can speak in many languages, has been in foreign countries for a long time and has " always felt the joy of life!" With lightning speed she informs me about the small shops around; a jeweller, an antique dealer, a gallery, a cafe… Besides she keeps waving to people, having some small talk. She is a calender for cultural dates, telling me where to find what, and in between she keeps telling anecdotes of her live. So, now I'm really curious, and we plan to meet again…
Smilla has promised to be my German correspondent and I couldn't be happier. . Please check out her fabulous site http://anders-anziehen.blogspot.com/.