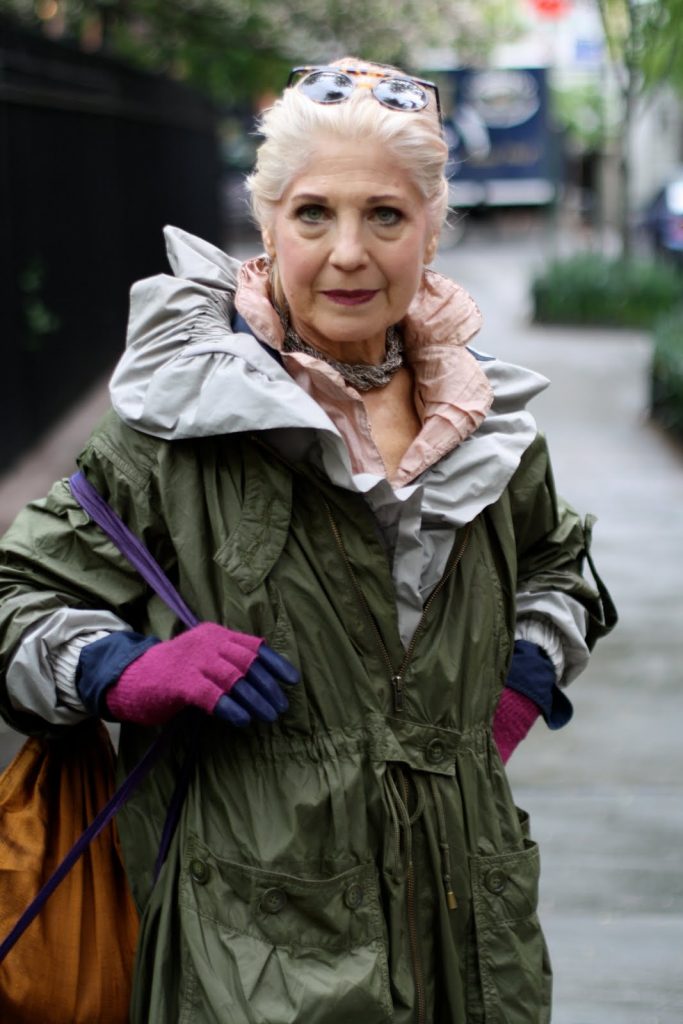 [Photos: Ari Seth Cohen, Text: Maayan Zilberman]
One of the qualities we love most about our magnificent friend Debra is her ability to make casual garments look like evening wear and vice versa. We spent the day together recently, and since a day with Debra so easily turns into a multi-activity affair, it was important to dress suitably for "Day Into Night".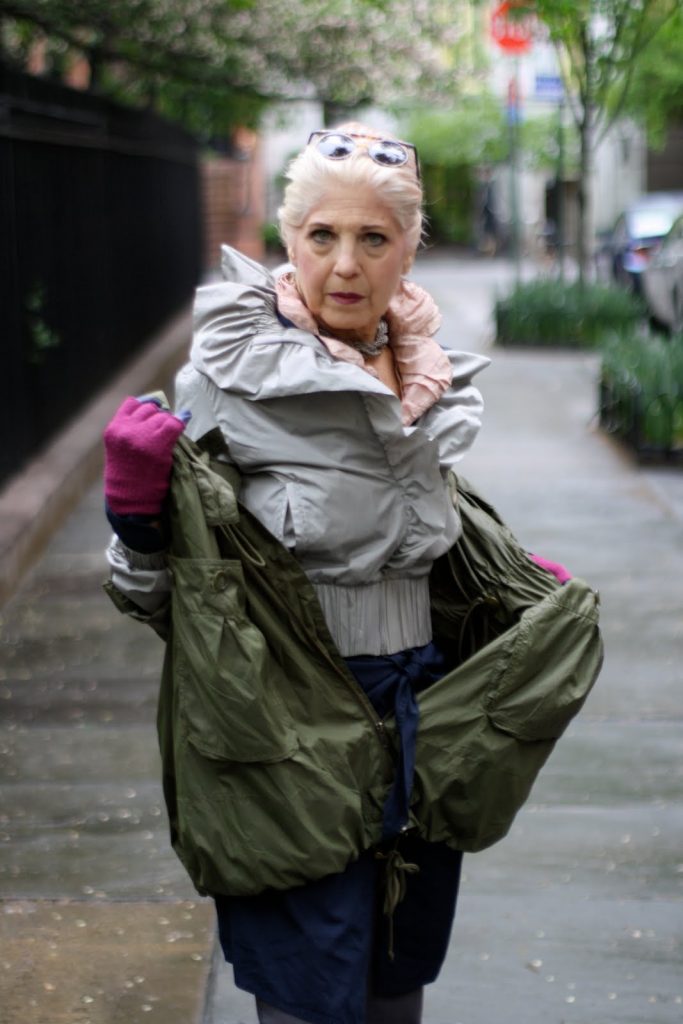 Debra says she likes to layer a lot of "like fabrics" so the look is pulled together and not too bulky. For a morning walk by Gramercy Park, she pulled together this look with an anorak from H&M, a "gifted" ruffle-collar windbreaker from Victor & Rolf, and layered purple leather gloves.
Debra really stays true to her philosophy that if you don't spend much on clothes, you can have more fun with them and not feel precious about mixing and matching.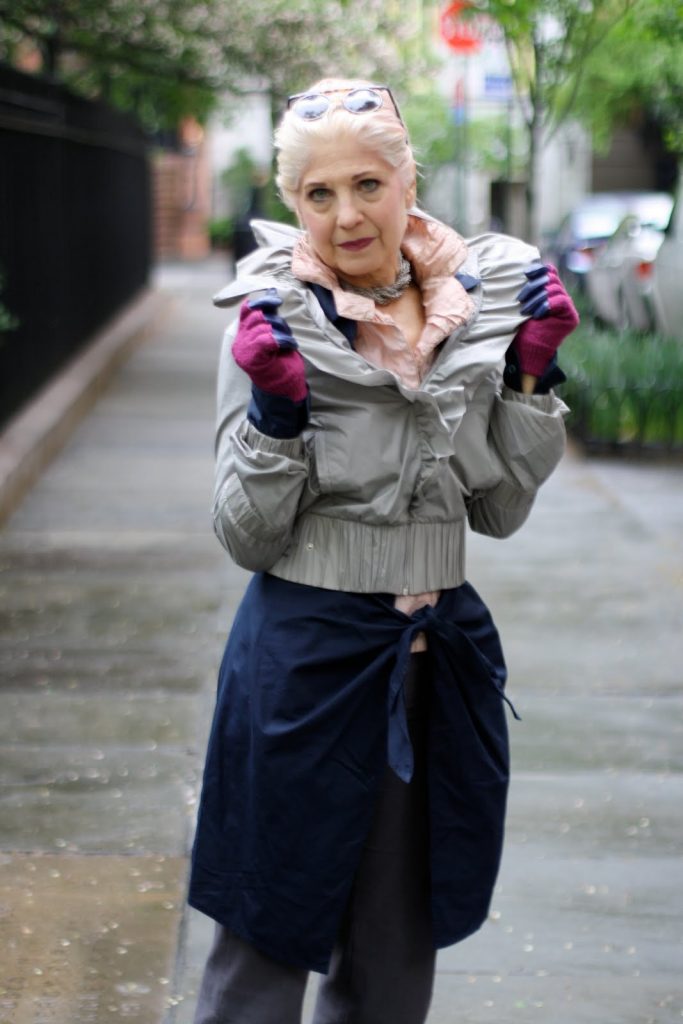 Without the anorak, her afternoon outfit is perfect for sitting at ABC Carpet & Home (one of her favorite spots for tea). She loves the ruffled collars in these nylon fabrics, because they retain their shape while being suitable for the day's drizzly rain. I love these kinds of fabrics too, nylons (or parachute fabrics) that are traditionally used for athletic wear, but here they are made to look luxurious.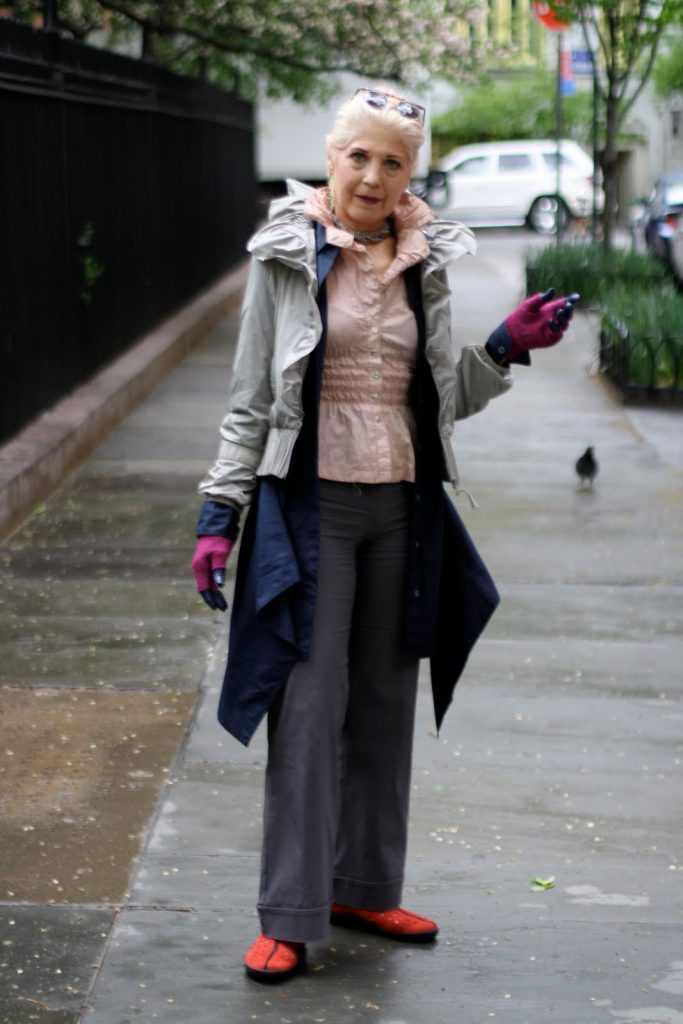 Debra tells me one of her favorite pieces is this navy blue shirt dress that ties at the waist. It's great because it gives the illusion of wearing either a skirt or a jacket, and can be worn like a shirt tied around the waist (see Proenza Schouler) or like a loose jacket (as per Rick Owens)…
As it got darker out we decided to sit in the beautifully renovated Rosebar at The Gramercy Park Hotel. The lighting was perfect for highlighting Debra's many ruffled collars, which taken into an evening setting, looked glamorous and regal.
What I love most about Debra here is how consistently she takes her mix of "thrifted and gifted" and "wears it without it wearing her".