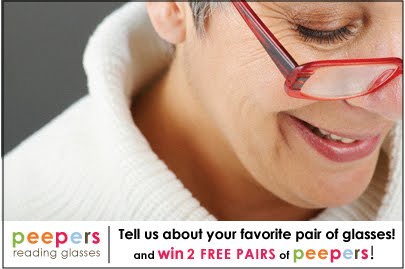 I know that many of you are inspired by the glasses you see on the ladies and gentleman of Advanced Style.Advanced Style and Peepers Reading Glasses are offering a Giveaway to win 2 free pairs of reading glasses. All you have to do is send us a photo of you in your favorite glasses and a short explanation of why you love them. We will post entries HERE and the winning entry will win 2 free pairs of Peepers Reading Glasses.
Send all entries to Peepersgiveaway@gmail.comCheck more contest details to below:
EASY TO PARICIPATE!1) Submit a photo of your favorite pair of glasses along with why you love them to Peepersgiveaway@gmail.com2) Entries will be posted to our Peepers Giveaway Page3) The most popular entry wins 2 FREE PAIRS OF PEEPERS READING GLASSES!4)Contest runs from Oct 1-Oct 31 winner will be announced shortly thereafter!5)Entries will be numbered, vote on your favorite one by emailingPeepersgiveaway@gmail.com with the number of your favorite entry!
* Winner will be determined by Advanced Style and Peepers * Winner will be posted on Advanced Style.* Winner will be contacted by Peepers directly so they can pick the pairs they want.