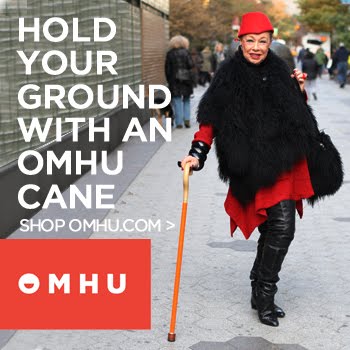 I love any company that considers smart design when making products for older people. I remember going out to help my grandmother buy a cane and all we could find were those grey and silver, very clinical looking, walking sticks. My grandma Bluma loved color. She felt that as long as she needed a cane, that she should find something beautiful that would lift her spirits. My mother and I always considered this when we would go out shopping for her.
The ladies and gentleman of Advanced Style have offered proof that style advances with time. Wouldn't they want their canes, walkers, and other aids for daily life, to be just as stylish as their carefully coordinated accessories? This is why I was thrilled when I first heard about Omhu, a wonderful company offering groundbreaking designs to support people's abilities as they change throughout life.I had the great opportunity to shoot Lynn Dell, "The Countess of Glamour" modelling one of their stylish canes in the ad above. At 78 Lynn Dell knows what works best for her.When it comes to style she says,"I like strong colors and I like strong people. All colors work if the intensity is strong enough." The bold color and sleek design of the Omhu cane suit Lynn Dell's style philosophy perfectly.
If you would like to order one of the Omhu canes,available in six different colors, they are offering free shipping for the month of December. Check out some more great holiday gifts at http://omhu.com/ and enjoy more of Lynn Dell's style below .