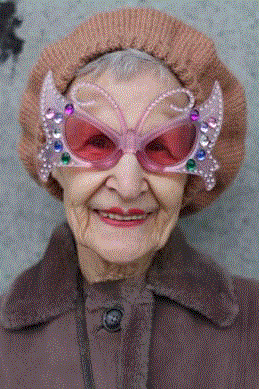 I met 81 year old Rita on a trip to Seattle over the weekend. She walked into the Great Harvest Bakery in Ballard wearing the most interesting pair of alien-eyed sunglasses. I was very intrigued and need to know more about her. I waited until she was finished purchasing her loaves and then asked if I could take her photo for my style blog, based in New York City. She was delighted and told me, "I have over 70 pairs of glasses and I wear a different pair everyday. Meet me here tomorrow and I will bring a whole bag full." I knew that I couldn't miss out on this opportunity!
The next day I met Rita outside the bakery wearing an even more spectacular pair of multicolored sunglasses. She showed me a grocery bag full of glasses that I could choose to photograph her in. We had a great time talking and taking photos and she told me the story of why she wears such outrageous glasses.
Rita says that her tastes are usually pretty simple. She had lost her small vintage sunglasses somewhere in the neighborhood, so her friend Marty accompanied her to a local mall to buy another pair. Marty picked out a big, fun, over-sized pair of sunglasses for Rita to wear and she picked out a smaller, more simple pair. Rita decided to purchase them both and wore the big pair to a recovery meeting sometime that week. Everyone in the group went wild for Rita's big shades. People started sending her huge, outrageous pairs of sunglasses from all over the world, resulting in her collection of over 70 pairs. Rita told me that although she wouldn't normally dress outrageously, she feels that the sunglasses make me people happy. When I asked her how she felt about them she replied, " They aren't really my style, but now I don't want to hurt anyone's feelings by not wearing the pair they bought for me. Now I feel lost without them. They have become my trademark."
I loved meeting this wonderfully eccentric and charming woman and hope you enjoy her story and of course her amazing collecting of glasses.