Carol and Richard sometime in the 70s posing as The Avengers, Emma Peel and John Steed. The bowler hats belonged to my(Carol's) father.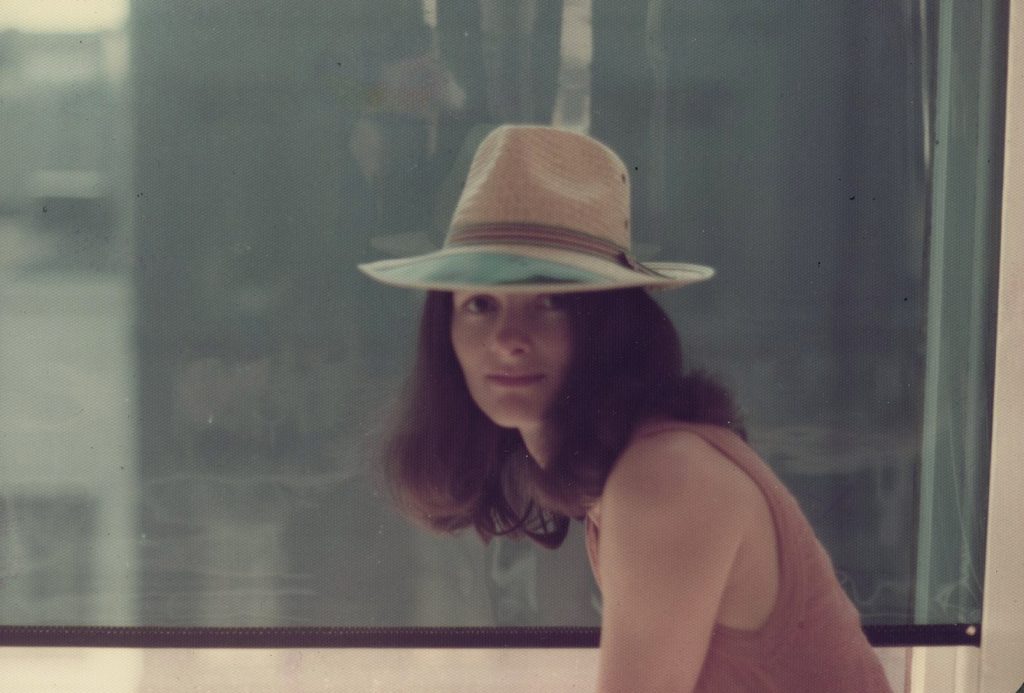 Carol in her visor hat at Chestnut Street Studio. The little orange top was from a favorite Philly store, Asta de Blue.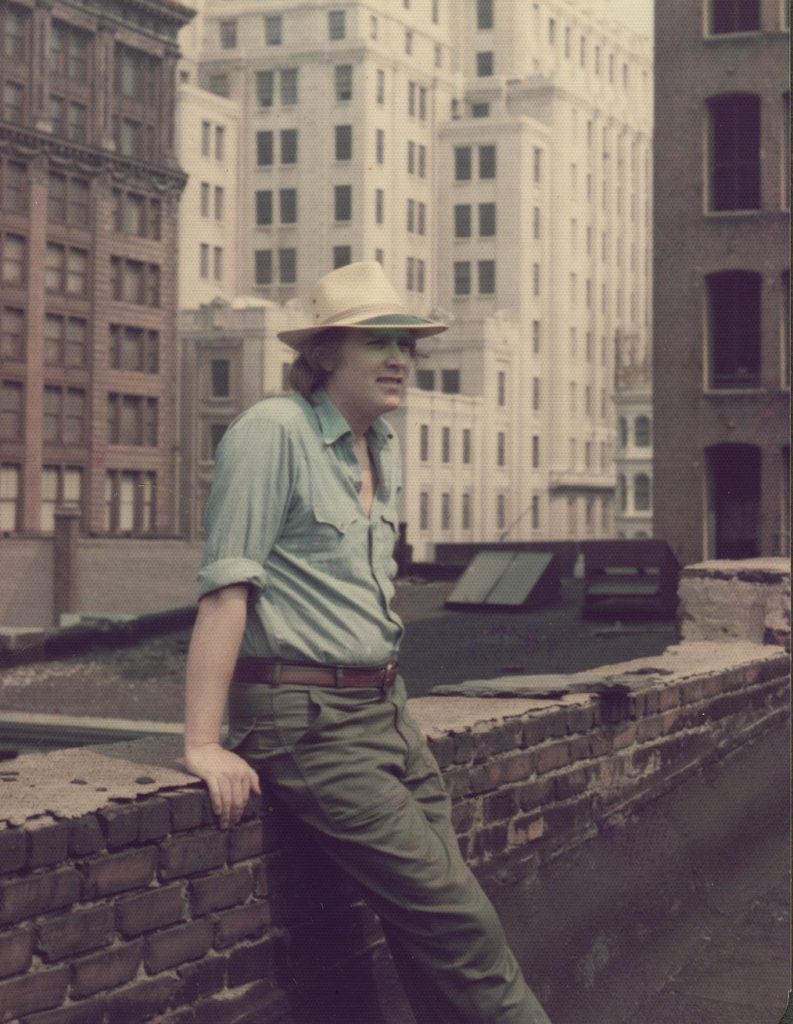 Richard on the roof of our building on Chestnut Street in Philadelphia. The white building in the background was the Strawbridge and Clothier Department Store. Richard is wearing army/navy fatigues and a denim work shirt.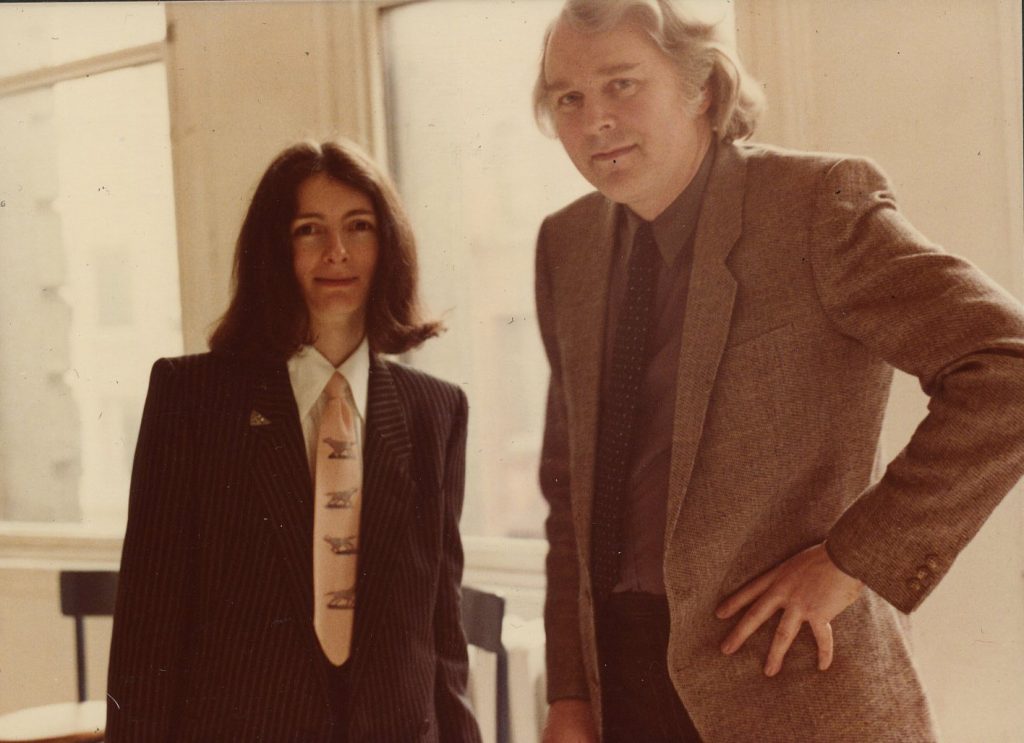 In our loft on Chestnut Street in Philadelphia in the 80s. I am wearing an Armani jacket from the Tribout Shop at John Wanamaker's with a vintage tie. The jacket was part of a beautiful suit that I bought for my job at The Fidelity Mutual Life Insurance Company.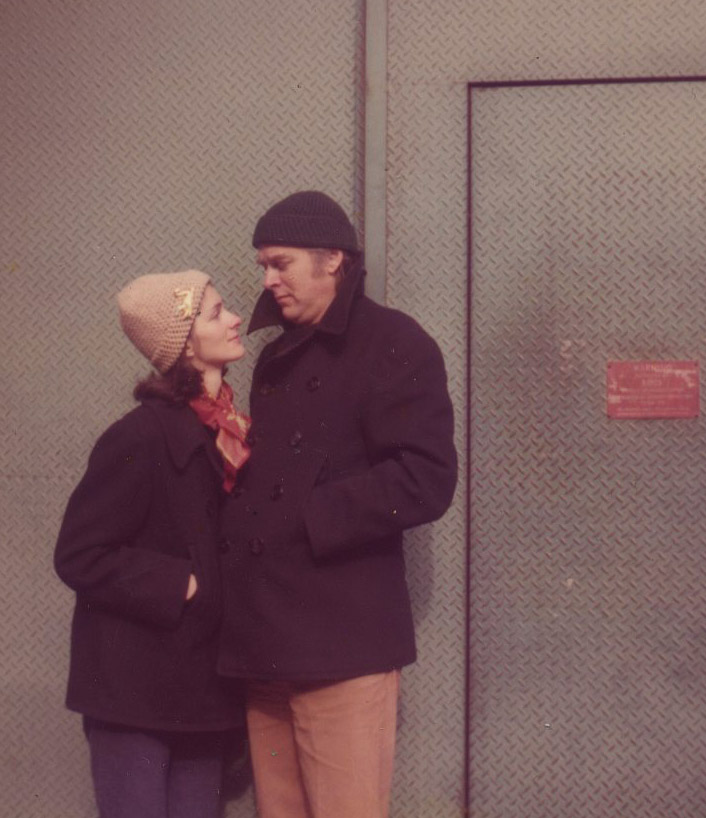 Carol and Richard sometime in the 70s in Philadelphia. Richard is wearing a pea coat I bought at the Pennsylvania Hospital Thrift Shop for 50 cents. We used to haunt the alleys of Philly and I found the swan pin in a notions store that was being torn down.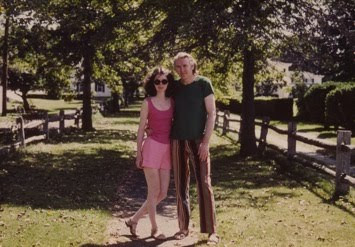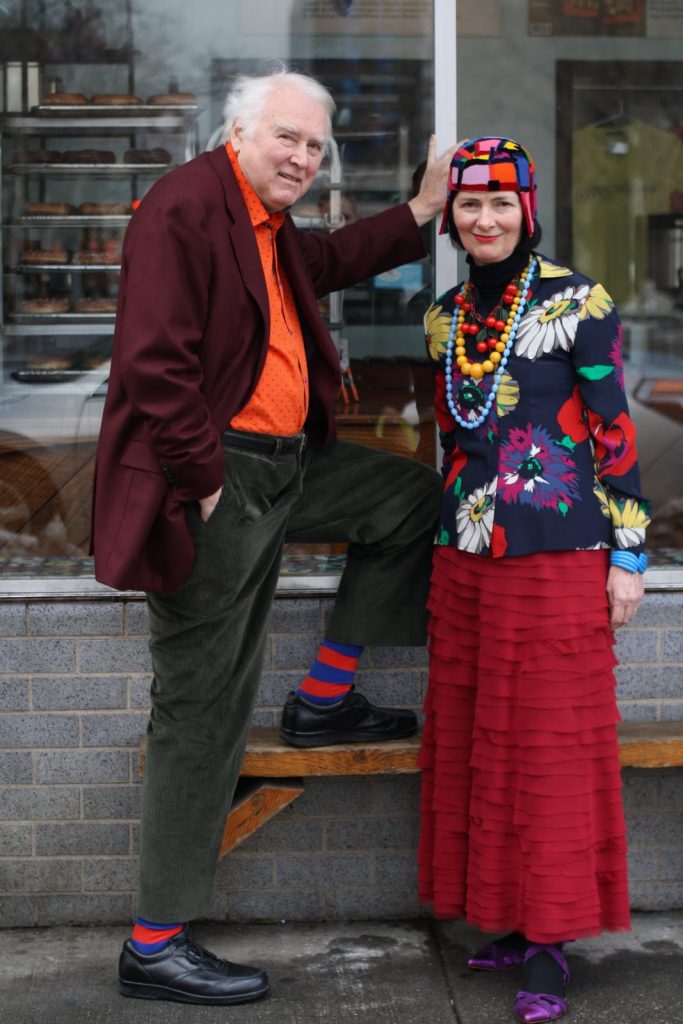 Carol and Richard just a few years ago by Ari Seth Cohen
I first met and photographed Carol and Richard when I was working at The New Museum back in 2009. I have loved following this style duo's inspiring adventures ever since on Carol's wonderful blog
http://femmeetfleur.blogspot.com
Carol and Richard, both artists, describe their style as extravagantly exuberant. Check out Carol's style story below and make sure to check out her blog for more colorful adventures.
In the 60's I looked at Dianna Vreeland's brilliant photo shoots for Vogue. The over-the-top exotica of patterned fabrics,
models in
rich caftans posing in tiled temples in Morocco, with impossible
hairdos piled high, simply enthralled me. Once I found some patterned
ribbons in an abandoned notions store in Philadelphia and made a long
dress from them. I am loathe to admit that I did not keep it. I have the
clutter-free gene in my DNA.
Back in the day, I
earned my keep as a career woman, and had to learn to dress like one.
However, I made my own style. I loved Cacharel, and bought great clothes
with French flourishes and details. If I was going to be tromping the
halls of commerce, I would dressed like a French ingenue, by Jove!
Now,
as always, I am inspired by art and color. The cut-outs of Matisse suck
the breath right out of me. And I love fabulous clothes by the great
designers like Paul Poiret, Elsa Schiaparelli and Jeanne Lanvin.
As
I have gotten older (and retired from my job) I have the freedom to do
and dress as I like. When I dress for an event, I put together an outfit
as one would create a salade composée. I pick color and form for a
memorable effect. You should feel passion when you dress, as if you were
posing for Matisse on the French Riviera. This kind of dressing pumps
up the joie de vie!
Since I am part of a
fashion team with my husband, Richard Cramer, it is only fitting that I
tell you that his first job was as a window dresser at a beautiful
department store in Milwaukee called T.A. Chapman's. He loves color too,
and buys his fantastic shirts at Coton Doux in Paris. He is celebrated
in our co-op for his shirts which he even wears to the gym! We are often
greeted by our neighbors with: "You two always look spectacular!"