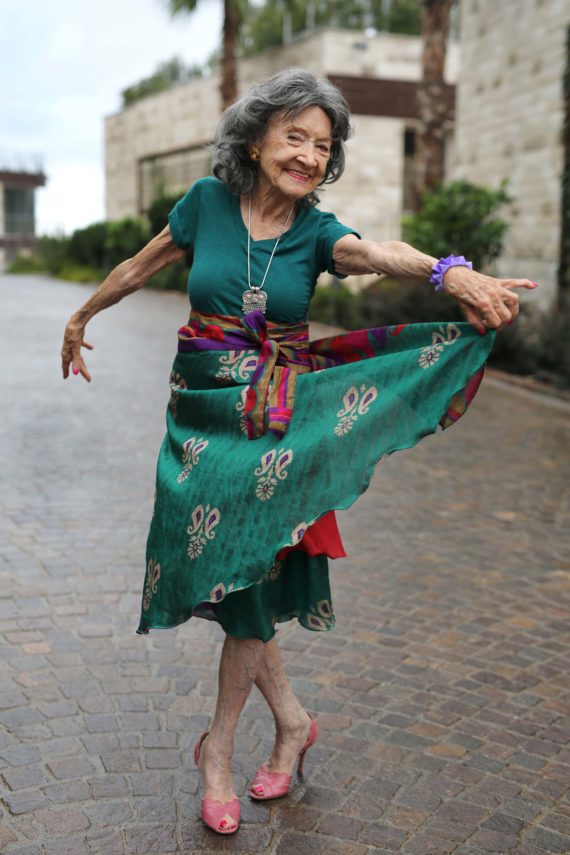 I am constantly inspired by the wisdom and spirit of the people I photograph. I wanted to share an essay written by 98-Year-Old yoga instructor Tao Porchon-Lynch, featured in my latest book Advanced Style Older and Wiser. For more essays CLICK HERE.
In my head I'm still in my 20s, and I have no intention of ever growing up. When people ask me about age, I tell them to look at all the trees around them. They're hundreds of years old. They may look as if they're dying at the moment, but they're not; they're recycling themselves. In a couple of months, they're going to be reborn again. I believe we can recycle ourselves with each breath we take.
It's important to have no fear. My uncle in India taught me that. He was a friend of Mahatma Gandhi. I marched with Gandhi in 1930. Through both of these great men I was inspired to always do what I believe. I performed nightly through the World War II bombing Blitz in London and people were amazed. I worked with General Charles de Gaulle and the French Resistance helping Jews escape the Nazis. I didn't think it was anything special. I later married the love of my life and modeled for top designers such as Coco Chanel, Jean Lanvin and Jean Dessès. Then, I was an actress under contract with MGM in Hollywood. When disappointments came, my dear friend Marlene Dietrich said, "Close the book." Instead of dwelling on things, I learned to move on.
I live every day with style. I like color and I always wear high heels. Although I am considered a yoga master and have certified over 1,600 yoga teachers, I love wine and chocolate. When I was 87, I started competitive ballroom dancing and I have since won over 721 First Place Awards. It's never too late to follow your heart. When I get up in the morning, I say to myself, "This is going to be the best day of my life"… and then it is. Just know that there is nothing you cannot do for you're not the doer, you're the instrument. You have the power inside to do everything you set your mind to!