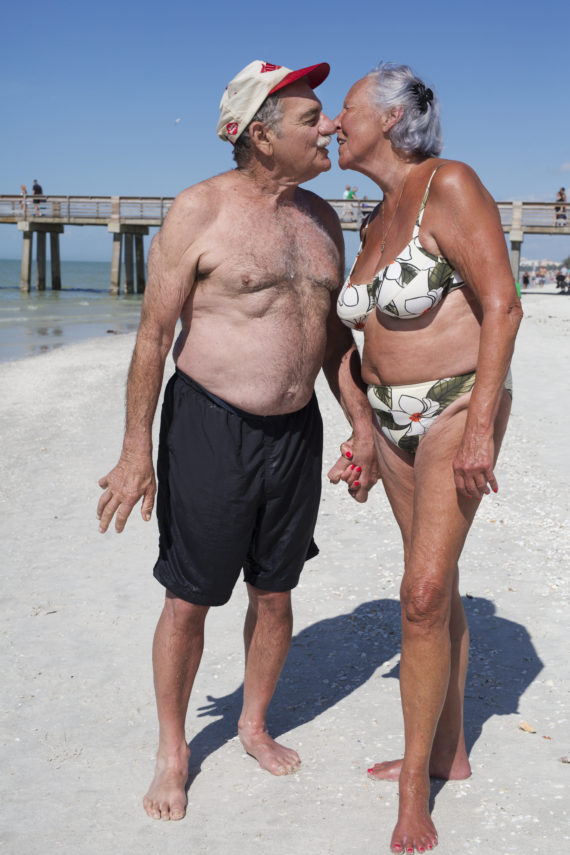 Lately I have noticed that more and more I am drawn to photographing older couples when I am traveling. I always wanted Advanced Style to not only represent personal style, but also they ways in which we can continue to imbue our lives with a sense of purpose, connectedness, creativity, passion, fulfillment, vitality and spirit, well into our elderhood. Companionship takes many forms as we move through life. There is much to be learned from couples who have been in life long relationships, but just as much hope and insight can be gained from newfound love, love after loss, and the undying love and memory of one's true soul mate.
I met this gorgeous couple on the beach in Naples Florida. I watched as they held hands and smiled, while walking through the clear blue water of the Gulf shore. After a few moments I approached them and asked them if they wouldn't mind posing for a quick photograph for a project about love.
Richie told me that he met Lee a year before he actually approached her about going on a date. He said, "I knew her for a year, but I was scared. I was afraid that I wouldn't find someone because I had a past that wasn't so fun and I wasn't going to get into the wrong thing again. But she's just easy to be with and anything makes her happy. What more could you want?!"
Names and Ages? Richie & Lee 78, 72
How long have you been together? 14 wonderful years
The secret to a long lasting relationship? Love, Patience and understanding and keeping the excitement alive

A favorite memory together? Our first meeting
And how did you meet? My daughter got us together since she baby sat for Richie's Nieces and nephew.
Whats your favorite quality about one another? Honesty and openness.Richie had such honest eyes I fell for him immediately. The eyes are truly the picture of the soul.
How has your relationship changed over time? has it grown stronger? More loving and mucho stronger
How do you get through difficult times? Communication and attentive listening and patience
Any tips and Advice? Be kind and respectful to each other and respect each otherss differences.